It's time for an upgrade to your RV's interior, and you're wondering how you can be positive you chose the right RV furniture. Sure, shopping for new furniture can be plenty of fun! But it can also be overwhelming at times. There are a lot of decisions to make and little things that might go wrong, and it's hard for many of us to step back and picture how things will look before we make a purchase. To help you choose the right RV furniture, we put together this quick list of things you should consider.
Designing in style
The first thing to think about when choosing the right RV furniture is look. Be sure the furniture you choose fits the style of your RV, whether that be modern, rustic, farmhouse, boho, the list goes on! It can be helpful to hop on Pinterest at this point for some inspiration. Look at what others have done with their rooms, both on the road and in permanent homes, and try to identify what you like and don't like about each photo. Think about how it will look in your space. Make sure the colors compliment the other furniture, the paint or wallpaper inside your RV, and the rest of the unit in general.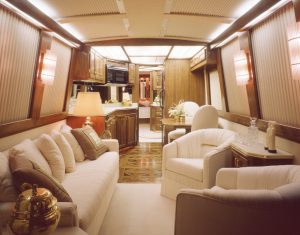 Size and space
Furthering the topic of how it will look in the space, consider the size of the furniture. Especially when shopping online, look at the dimensions and measure out how big it will be in person. Be sure that the coffee table isn't much taller than the couch, or the side table isn't a foot too short. Here at Bradd & Hall, we offer custom made RV furniture. This includes size! Check out this measuring guide for instructions on how to measure your space for perfect custom-order furniture.
Practicality in upholstery
Your next concern is practicality. This is especially important if you have small children and pets that might harm your new furniture. Yes, we love them and their messes, but we want our furniture to last for a long time. The most often recommended types of upholstery are microfiber, leather and vinyl. All of the aforementioned materials are relatively easy to clean, making them great for households with a lot of spills. Microfiber in particular is great for pets because it doesn't scratch easily.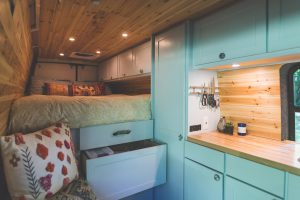 Make sure it matches
The next thing to do when choosing furniture is making sure it matches. Once you've already chosen the style and color scheme you're going for in your RV, consider if your new furniture will match. If matching colors isn't an option, at least try for a neutral color that will work in any situation. This is a great idea for furniture you plan to keep for years to come. Choosing a neutral color means your styles can change while your couch remains the same.
Other considerations
The last things to consider are price and, in a motorhome in particular, storage space. Budget, of course, is something you can determine before you start shopping. Storage opportunities are a little more difficult to come by. When you're living on the road in a motorhome, every inch of storage counts. At Bradd and Hall, many of our couches, tables and more have extra storage space built in. This allows you discreetly and cleanly bring more of your favorite belongings with you on the road.
Overall, there are tons of aspects to consider when trying to choose the right RV furniture. Consider style, size, color and practicality before purchasing any new RV furniture. If you need help deciding what you want, our sales associates at Bradd and Hall are here to help. Give us a call or stop by our showroom in Elkhart, Indiana, to talk with our team about what RV furniture will work best for you. We'll be happy to provide you with the custom furniture you need to make sure your RV is the perfect space for you and your family.