While life on the road is popular with retirees, there's a growing number of young people and young families who choose to work and go to school from their RVs. Whether you're interested in a full-time job with regular hours, or flexible online work that's there when you want it, there are plenty of RV remote jobs to choose from. Here, we've gathered some of the most popular positions for full-timers.
Work from the Road: RV Remote Jobs
Virtual Instructor
Almost any skill can be translated into a position as a teacher, tutor or instructor for that skill. If you have a teaching background, a virtual school or online tutoring site are good options. As long as you have internet connection, you can chat with students live, record and upload lessons and review work over the internet. You may end up teaching some roadschooling kids who learn in their RVs as well!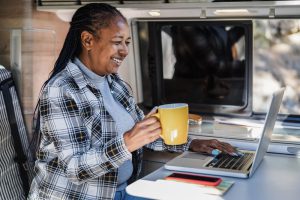 Even if you don't have a background in traditional teaching, most work skills can be taught through a virtual class. Whether you're a yoga instructor, photographer, animator or business owner, you can sign up to share your knowledge on sites like Skillshare. They'll help you structure your class and find the best ways to share your knowledge and earn some cash on the road.
Writer and/or Editor
Creative positions are great for RV remote jobs. This is especially true for writers and editors. You can find positions in copywriting, blog writing and editing online. Or, if you'd rather choose how you work, you can sign up for a freelance website like Upwork and start a freelance career. You can choose which projects to take on and work when you have time, which is perfect for traveling workers.
Virtual Assistant
Positions like office assistant or administrative assistant are commonplace in mid-size to large companies. The general position normally refers to someone who can manage many different tasks and projects while helping others get organized. It also might include talking with customers, managing calendars and answering emails. Whether you work for an entire business or just the business owner, this is another RV remote job to check out. As long as you have a laptop, phone, and well-organized space, you can thrive in a position like this.
Customer Service Representative
Hundreds, if not thousands, of companies hire remote customer service representatives. This position normally includes talking with customers on the phone, via email or over chat. They're normally widely available and have set hours, which can include weekends and nights if preferred. It's normally a low-stress job. As long as you have a quiet environment, an abundance of patience and great communication skills, this is a great option for RV remote jobs.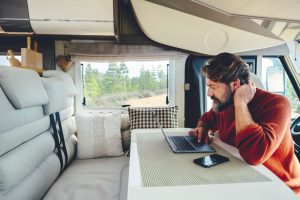 Bookkeeper/Accountant
Accounting and bookkeeping are some of the top remote job industries. You can manage everything from business transactions to payroll and budgets from the comfort of your RV dinette table. Though this job is better for the mathematically inclined, it's generally easy to learn. As long as you're able to keep track of spend and stay organized. If you currently perform this type of work in person, this is another position where a conversation with your boss about a transition to online work might be worth it. Or you can check out the job listing sites and find a flexible bookkeeping position to work from your motorhome.
Transcriber
Transcription services can pay well as you become more efficient at listening and typing. This job can include typing notes from an audio file, typing a video or audio transcription, or writing out closed captions for a video. These jobs normally pay per minute of audio, so quick typing can earn you more cash. This is a great position for people who prefer to work alone and set their own hours. You can choose to work for a transcription or closed caption company, or you can provide this as a freelance service.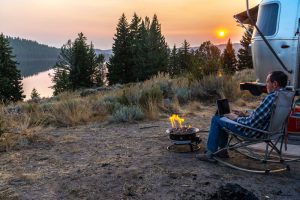 Graphic Designer
Over in the art and tech world, this is another popular RV remote position. Graphic design is a very popular remote job because it's so easy to do online. This is a skill that will easily transition from a physical office to the realm of remote work. You could do anything from website building to photoshop and social media graphics. The learning curve here is steep, but once you have an understanding of design concepts and are practiced in Adobe Suites, you can easily perform this work from the road.  
Find RV Remote Jobs
It's generally easy to find RV remote jobs online. Popular job search sites like Indeed and LinkedIn have filters to search for remote work. You can find full or part time positions online. Additionally, many remote workers choose to freelance rather than work a full-time position. Freelance websites like Fiverr and Upwork are a great place to get started. Another option is to ask your current employer, if you have one, about the possibility of switching to a remote position. Although it will require some big changes, remote work is easier to find and more common than ever before.
Now that you're ready to work an RV remote job, you'll need a new RV office setup. At Bradd and Hall, we have RV tables and desks that can be folded to save space or customized for extra storage. We can color match your current motorhome stain, or help you upgrade the rest of your RV to match your new desk. Get started by browsing our inventory online, and let us know when you're ready to custom order your new RV furniture!
Get RV Repairs and Upgrades!
When the interior of your RV needs an upgrade, Bradd and Hall is here to help! We carry custom wood furniture products, and we'll perform services from complete coach reflooring to simple wood window valence installation. We also carry RV furniture, including theater seating, sofas, captain's chairs and more. Call Bradd and Hall for a custom RV interior renovation by our professionals!