Your full-time RV budget will depend on many factors: your family size, RV type, location, and vehicle to name a few. With all these aspects of RV life raising the price of an "affordable" way of living, many full-timers keep an eye out for money-saving tips. Once you add weekend plans and other outings, it's clear that an average month of spend is wildly different among full-time RVers. But no matter what you full-time life looks like, we have some money-saving strategies that can apply across the board.
Save Money in Your Full-Time RV Budget
Plan Ahead
Most full-time RVers do this anyway, but it's still a great way to save money. If you plan your next site well in advance, it will be easy to stay a few weeks or even a month or more! When you stay at a campground for a longer period of time, there's normally some sort of discounted price for your stay.
Additionally, staying in one spot means less driving. And, in turn, this means you save money on gas and other travel costs. A great way to save money is to stay at one campsite for long periods of time.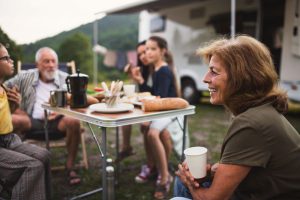 Find Free Parking
Any long-time RVer will tell you – free overnight parking can be a lifesaver! There are free places to park your motorhome overnight across the country. Of course, there are some options for parking on public land. Although more popular parking spots include places like Cracker Barrel, Walmart or Bass Pro Shops. All of these places welcome RVers to park at night. This is great for traveling between campgrounds! You can save money by spending a night or two in your motorhome free of charge while you drive from one park to another.
RV Memberships
You can reduce the spend on your full-time RV budget by joining RV memberships. These paid memberships often come with different benefits, but the main one is discounted RV park and campground stays. Some of our favorite memberships to join include Good Sam, Thousand Trails, Passport America, KOA, Harvest Hosts and Boondockers Welcome. There are benefits to each one, so we definitely recommend researching the RV membership for you and your full-time RV budget.
Stop Propane Tank Exchanges
Propane tank exchanges are more expensive for less propane compared to refill centers. Most RVers will agree that refill centers are a much more cost-efficient option. Propane tanks average about 15 gallons, but a refill will normally give you a full 20 gallons. And often at a lower overall price.
While you're refilling your tank, check your motorhome's tire pressure. There's often a station to add air to your tires. The U.S. Department of Energy reports that you can improve your gas milage by up to 3% when you properly inflate your tires.
Save with Slow Cookers
A great way to save on your full-time RV budget is by investing in a slow cooker! Your food budget will easily be one of the most expensive bills at the end of the day, and a slow cooker can help keep you motivated to cook at home affordably. Stopping to eat at restaurants while on the road, or going out to eat when staying at the campground, will quickly cost hundreds.
Save money on food by using a slow cooker or multi-cooker. These are a life-saver for most RV families. You can simply toss the ingredients in the pot before you hit the highway or before you head out on a local adventure. Often when dinner time comes around after a day of travel or tourism, cooking is the last thing you want to do. Instead of eating out, you can enjoy a home-cooked, healthy and affordable meal waiting in the RV.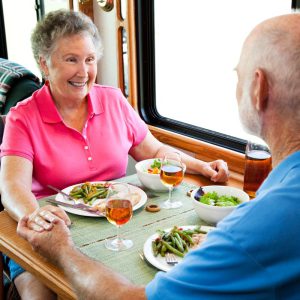 Find Free Activities
When you stop in a new city, you can reduce your full-time RV budget by finding free activities and free tours. Parks and other outdoor activities are often just a few dollars for parking, if not free entirely. You can stay active and entertained all day without any huge hit to your wallet.
Additionally, many National Parks have free tours. Check out the local park's website or visitor center before heading out to find tour schedules and other free resources. If you're staying in a big city, check out Free Tours by Foot. They offer free walking tours from San Francisco to Miami.
Now that you're saving money on food and travel, save some money by investing in high-quality, long-lasting RV furniture! Bradd and Hall offers custom RV furniture by some of the best brands on the market, and with the best fabrics and materials. We have sofas, captain's chairs, dinettes and more that are Amish or in-house made and will last you for years in your motorhome. Contact us today to invest in RV furniture that will last at Bradd and Hall!
Get RV Repairs and Upgrades!
When the interior of your RV needs an upgrade, Bradd and Hall is here to help! We carry custom wood furniture products, and we'll perform services from complete coach reflooring to simple wood window valence installation. We also carry RV furniture, including theater seating, sofas, captain's chairs and more. Call Bradd and Hall for a custom RV interior renovation by our professionals!