Living life on the road can be exciting, new, and always full of surprises. One thing you don't want to have to figure out day in and day out is how you are going to work. I don't know about you but sitting on my bed all day with a computer can get me really distracted, really quickly. Traveling also gives you so many reasons to get up, get out, and explore. So, while you are planning to work during your full time traveling, make a plan on how you are going to get things done!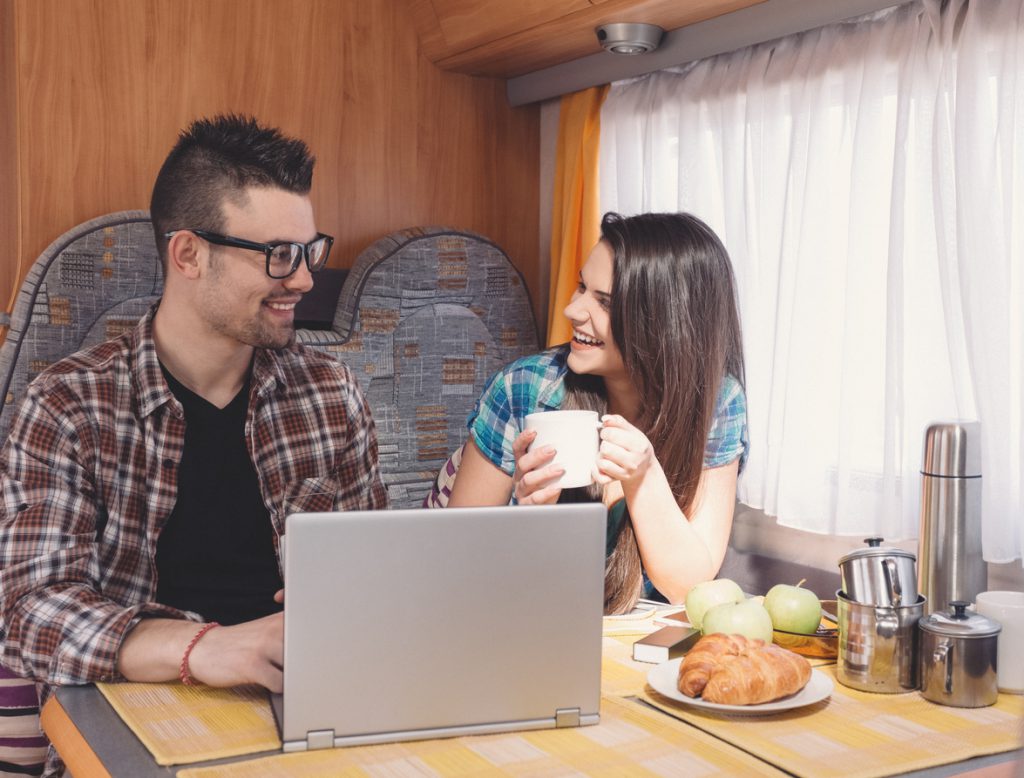 Bunkroom Office
Have you ever seen a bunkroom transform into an office? If not, this could be a great option for you! This allows you to have a dedicated workspace where you can fit your computer, have privacy for calls, and doesn't give you more distractions than you are already dealing with.
First, you have to remove the bunk beds. This part is not too difficult if you have a general idea of how they were assembled. This is the most important aspect to make room for your new office! At this point, you can see how the floors were put in. You may need to replace or remove these so you can put in something more heavy-duty to support you, your chair, and your desk area. At this point, you can start creating your desk space. If you love to build, have it! If not, bring your dimensions to us to build this for you. It is crucial that the dimensions are correct, so it fits and is sturdy.
And there you have it. A Perfect, secluded area where you can get your best work done with very little distractions.
Adding to Your Bedroom
Now, this option is a little more self-explanatory, a little easy to put together, and a lot less work. It may not be completely secluded, but you can still create a designated area. Here you can invest in a small end table or one that is mounted to the wall. This can be something that stays put all the time where your office supplies live, or something that folds down where you create your space each time you need to use it. We advise the first option where there is a space that is meant for your work, but if you have to use it when needed, you can do that too. There are several recliners and chairs that you can purchase from online that would fit perfectly in this setting!
Tent office setup
If you are looking for a place where you can set up your area with no distractions, and no overlap of rooms, grab your tent! This may seem a bit extreme, but at the same time, why not enjoy the outdoors and your own space while you are getting your work done? Your tent office may not have the structure that you are looking for, but it could certainly have space and privacy. Consider bringing your own tent, some blankets, a lap desk or small table, lighting, and a drawer or some form of organization to keep your things together. Pop your tent up near a power source and get to work!
What Will You Need?
As you begin to set up your offices, no matter where you decide, you are going to need a few things to ensure optimum productivity. The first thing you will need is a power source and a good internet connection. Make sure to either park near a power source or put your tent near a power source. If working is extremely important to you, call ahead and check for the WIFI situation and if there isn't one, you may have to explore your own router.
Organization is key to any sort of workplace. Make sure to have the proper shelving, drawers, and filing system. Working on the road can be a recipe for disaster if you don't learn how to organize from the beginning. Remember, everything has a place, even on the road.
Lighting may not be something that you think is important, but trust me, it definitely is! Make sure to put lighting anywhere you plan to work. Do not rely on your computer screen to light up the room and allow you to get your work done. This could strain your eyes very quickly. Get a desk lamp or something close by where you can see what you are doing.
Good back support is a must! Raise your hand if you tend to lose track of time when working! I know I do. And when that happens, you may get up hours later with a stiff back and no idea how that happened. Getting a chair with a good back support will be a lifesaver at the end of the day and week!
All set to get to work on your next trip? Just because you have a full-time job doesn't mean that should stop you from traveling. If you can make an office work in your RV, you are going to be able to experience everything you want while still being able to bring in a stable income! We hope these tips and ideas help you succeed in your RV!