The sofa that comes in your RV can sometimes be a bit bulky, uncomfortable, and wastes space for storage. When you don't like something, you simply don't tend to use it. This won't do, because all space is valuable in rigs.
If this is you, and you're wanting a new sofa that is comfy, cozy, and more usable, we have lots of different options for you to choose from!
At Bradd and Hall, we strive to sell the best RV furniture possible, and through our 38 years of experience, we've gained extensive knowledge of the complexities of RV furniture. Our goal is to work personally with you and to treat you like family. So you can trust us to remodel or replace any furniture part in your RV. Let's take a look at some of the neat sofas we have waiting for you!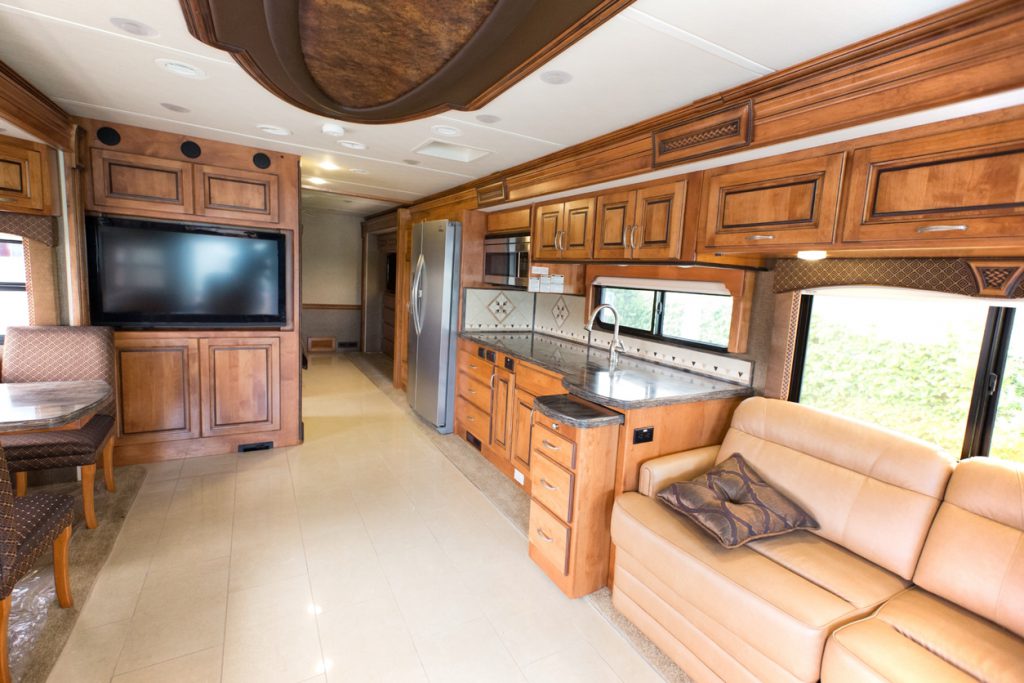 Lambright Sofas
We'll start with Lambright sofas. These are Amish-made and feature a great, comfy couch regardless of what model you choose. You can choose the Lambright Luxe Sofa Sleeper with an innerspring, pullout mattress, or we have the Lambright Double Recliner.
If you're looking at getting a recliner, Lambright offers several varieties. Including a version with a center console and one without a center console. These sit right up against the wall of your rig and give maximum comfort, functionality, and storage.
Villa Sofas

What's so great about Villa sofas is that they'll happily build you a custom sofa if you aren't finding what you need. They're amazingly versatile, and you'll find most models can be built according to what you need. Villa is known for creating high-quality products and modern style. Here are a few of their styles:
Villa expanding sofas – these are also available with a pullout mattress or as a Jackknife sofa. The main difference is the expandable sofa can be adjusted based on what you need. The regular size sofa will take up a corner space, but if you're RVing with friends, the extra seating is always great to have. The expandable version gives you more seating which means you'll lose a bit of walking space.
Villa dormie sofas – These are neat because they can be converted into a flat area to place an air mattress on top of. These also take up a bit less space than pullout mattresses. So they're ideal for smaller RVs, like pop-up expandables or teardrop campers.
Villa J Lounge – The lounge model adds a twist to an otherwise traditional sofa by separating into 2 pieces for easier installation. This is the premier way to be in style and relax.
Villa custom ensemble – Not seeing what you're looking for? That's not a problem for us! Our team is more than happy to put together a custom build for you and your family to be comfortable and stylish. We know it can be difficult to find the right sofa, or any RV furniture for that matter, but trust us to craft the right build for you.
Wanting to replace your RV furniture but don't know where to start? No worries. Bradd and Hall has you covered. You'll be impressed with our extensive inventory full of sofas, dinettes, captain chairs, RV recliners, and more. When you choose us, you'll be greeted with a warm smile as a friendly staff member walks you through our inventory. Our goal is to work personally with you to ensure your absolute satisfaction during your remodel. When you're ready to get started, give us a call so we can guide you every step of the way.