Top 10 RVs to Look Out for in 2022 
As we turn the page on another new year, Bradd and Hall is looking ahead to the biggest tech advancements, luxury additions and overall top motorhomes of the new year. Whether you're looking for a new full-time Class A motorhome or a sleek camper van, we've got the best 2022 motorhomes to add to your wish list.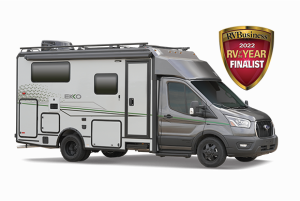 2022 Winnebago EKKO
The EKKO has to be the most obvious addition to our list. This Class C is a brand-new model from Winnebago and has already started making waves. Built for off-road driving and off-grid camping, the EKKO has already been awarded 2021's Best New Model from RV Pro and Class C of the Year from RV News. Starting at just under $172,000, the off-grid ready EKKO is easily one of the best 2022 motorhomes on the market.
2022 Forest River Forrester
Forest River has four great options when it comes to their 2022 Forrester Class C's: Classic, LE, MBS and TS. The largest option is the Forrester Classic, ranging from about 27' to 32' based on the floorplan specs you choose. All fourteen Classic floorplans are "Certified Green" by TRA Certification. On the smaller end, choose between the MBS (Mercedes-Benz) and TS (Ford Transit) options.
2022 Tiffin Allegro Red
Tiffin is one of the most popular manufacturers of luxury RVs, and the new 2022 Allegro Red is a perfect example of why so many people choose Tiffin RVs. This new Class A "combined luxury, power and safety all into one affordable RV." The captain's chairs are made of Ultraleather, a favorite of Bradd and Hall, so they'll last in style and comfort for years. The two floorplans feature plenty of spacious slides and come with options like a power patio awning and 8.0 kw Onan Generator. This new Class A is sure to be a hit in 2022.
2022 Thor Tranquility
Another widely popular motorhome manufacturer, the Tranquility is easily one of the best 2022 motorhomes we're going to see. This sleek Class B promises a smooth ride on a Mercedes Sprinter chassis. From the newest technologies like keyless entry to an adventurous 4×4 driving ability, the Tranquility is up for anything!
2022 Winnebago Sunstar
The new Sunstar is another Class A hit by Winnebago. Equipped with the obvious Winnebago quality, the Sunstar stands out as one of the top 2022 motorhomes because of its longstanding reputation as a comfortable and user-friendly option. There are five great floorplans to choose from this year and your comfort was the number one aspect of the Sunstar design. These models have conveniently placed USB ports by the beds and dining areas so you're always full-charged and ready to go.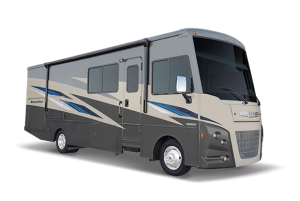 2022 Coachmen RV Cross Trail
The new eco-friendly Cross Trail Class C has already earned its spot as one of the best 2022 motorhomes. It's been awarded the 2022 Top RV Debut from RV Business and Best New Model 2022 by RV Pro. The Cross Trail ranges from roughly 23' to 34' with nine great floorplan options. This unit was formerly known as the Cross Trek, but earned its name change in 2022 with an all-over upgrade in design, comfort and tech.
2022 Newmar King Aire
The King Aire is a classic luxury Class A that's been well-loved by motorhome owners for years. It's spot on our list of the best 2022 motorhomes was pretty much guaranteed! These million-dollar motorhomes are the top of luxury, being named "The Rolls Royce of Motorhomes" by Luxury Launches. These 45-foot coaches are marketed by Newmar as having amenities and features that aren't available in any other coach. If you're looking for luxury travel in the new year, the King Aire is the Class A for you.
2022 Fleetwood Bounder
After over 35 years of manufacturing, the Fleetwood Bounder still earns yearly model upgrades due to its wide popularity among Class A enthusiasts. Some of the highlights of this year's Bounder include an all-new electronic instrument panel and enhanced safety features like power-heated mirrors and side cameras. You'll always be connected on the road, even with no cell service, via the Bounder's standard WiFiRanger Sky4 system.

2022 Phoenix TRX
Phoenix RVs have a special place in our hearts here at Bradd and Hall as they're manufactured in our hometown of Elkhart, Indiana. We've spent decades sharing the heartland with Phoenix, and the new TRX is a beautiful B+ that had to make our list. On the Ford Transit chassis, the TRX is perfect for people looking for something between a Class B and Class C. Although compact, the TRX includes a full-sized kitchen and a dry bath!
2022 Airstream Atlas Touring Coach
Another Class B, the Airstream Atlas is a great motorhome for those looking to live a full life on the interstate. Enjoy a smooth, safe ride on the Mercedes-Benz Sprinter chassis and plenty of space with the power slide. The Atlas Touring Coach has a perfect floorplan that keeps things as open and spacious as possible in a camper van.
While these are just a few of our favorites, there are tons of 2022 motorhomes and RVs on the market this year. Whether they're classics like the Forrester or brand new to the industry like the EKKO, all our favorite RV manufacturers have outdone themselves in terms of comfort, luxury and environmental consciousness. We're looking forward to hear what you have to say about new RVs in the new year!
Prefer to upgrade your current motorhome?
No worries! Bradd and Hall is here to help. Whether you're after a total floor to cabinet renovation or just a couple of new captain's chairs, Bradd and Hall has exactly what you need. Contact us today to get started!